Description
Arugula is a quick-growing, cool-season crop. It prefers well-drained, fertile soil, and full sunlight to flourish. In general, arugula grows to about 2-3 feet in height with creamy-white edible flowers. The young, tender leaves are less peppery and sweet in contrast to the sharp, spicy flavor of mature greens. Arugula flowers, fruit pods, and seeds are also a delicacy.
Health benefits of Arugula
As in other greens, arugula also is one of the very low-calorie vegetables. 100 g of fresh leaves hold just 25 calories. Nonetheless, it has many vital phytochemicals, anti-oxidants, vitamins, and minerals that may immensely benefit health.
Salad rocket has the ORAC value (oxygen radical absorbance capacity, a measure of antioxidant strength) of about 1904 µmol TE per 100 grams.
Being a member of the Brassica family, arugula greens are rich sources of certain phytochemicals such as indoles, thiocyanates, sulforaphane, and iso­thiocyanates. Together, these compounds have been found to counter carcinogenic effects of estrogen and thus may offer protection against prostate, breast, cervical, colon, ovarian cancers by their cancer-cell growth inhibition, cytotoxic effects on cancer cells.
Further, Di-indolyl-methane (DIM), a lipid-soluble metabolite of indole, has the immune modulator, anti-bacterial, and anti-viral properties (by potentiating Interferon-Gamma receptors). DIM has currently been found application in the treatment of recurring respiratory papillomatosis caused by the Human Papilloma Virus (HPV) and is in Phase-III clinical trials for cervical dysplasia.
Fresh salad rocket is one of the greens rich in folates. 100 g of fresh greens contain 97 µg or 24% of folic acid. When given to the anticipant mothers during their conception time, folate may help prevent neural tube defects in the newborns.
Likewise as in kale, salad rocket is an excellent source of vitamin A. 100 g fresh leaves contain 1424 µg of beta-carotene, and 2373 IU of vitamin A. Carotenes convert into vitamin-A in the body. Studies found that vitamin A and flavonoid compounds in green leafy vegetables help humans protected from skin, lung and oral cavity cancers.
This vegetable also an excellent source of the B-complex group of vitamins such as thiamin, riboflavin, niacin, vitamin B-6 (pyridoxine), and pantothenic acid those are essential for optimum cellular enzymatic and metabolic functions.
Fresh rocket leaves contain healthy levels of vitamin-C. Vitamin-C is a powerful, natural anti-oxidant. Foods rich in this vitamin help the human body protect from scurvy disease, develop resistance against infectious agents (boosts immunity), and scavenge harmful, pro-inflammatory free radicals from the body.
Salad rocket is one of the excellent vegetable sources for vitamin-K; 100 g provides about 90% of recommended intake. Vitamin K has a potential role in bone health by promoting osteotropic (bone formation and strengthening) activity. Adequate amounts of dietary vitamin-K levels help to limit neuronal damage in the brain. It thus has an established role in the treatment of patients who have Alzheimer's disease.
Its leaves contain adequate levels of minerals, especially copper and iron. Also, it has small amounts of some other essential minerals and electrolytes such as calcium, iron, potassium, manganese, and phosphorus.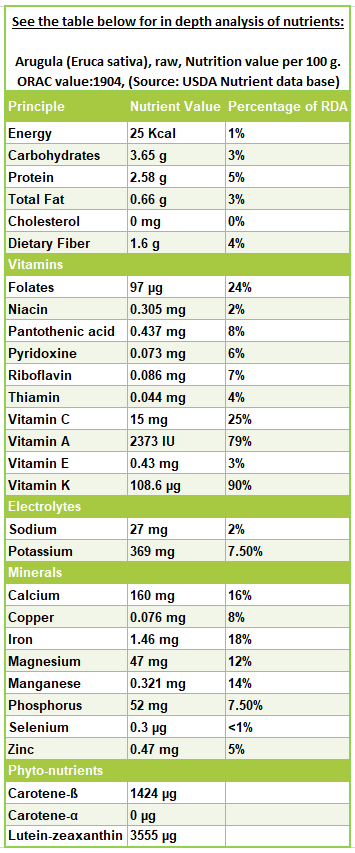 Information sited from: https://www.nutrition-and-you.com/arugula.html